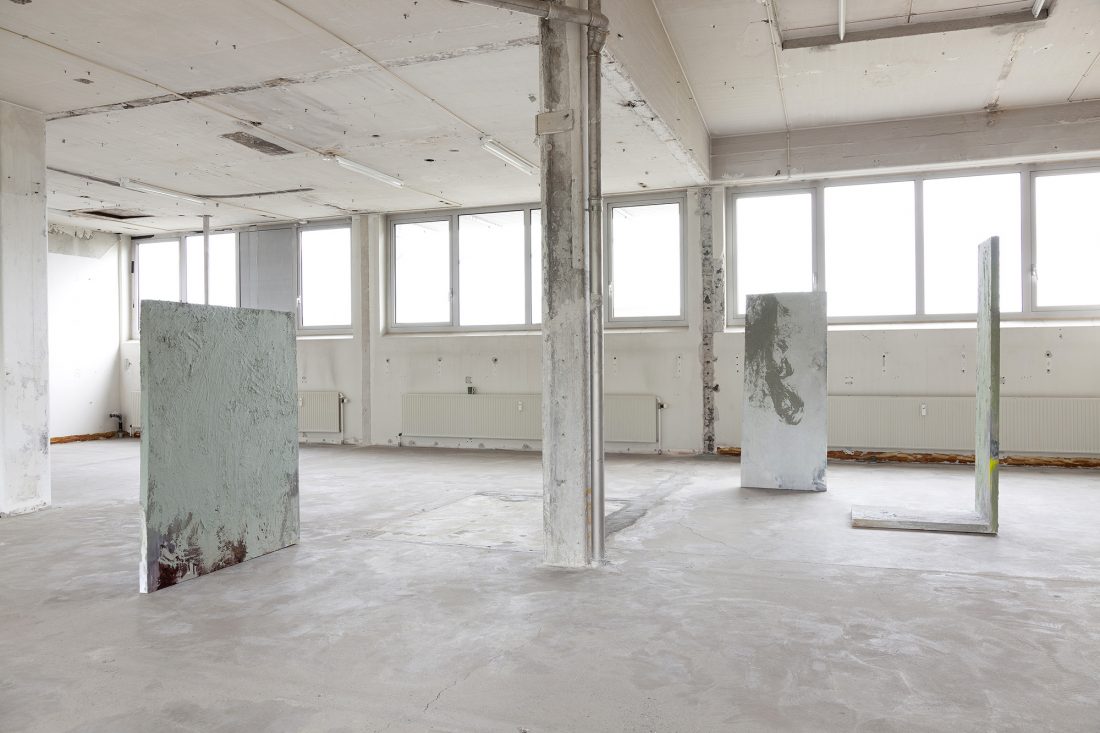 Danish artist Jeanette Hillig was educated in Copenhagen in 2008. She works primarily with large scaled sculptures and drawing. The aesthetic expression borrows from post minimalism and abstract expressionism and combines elements from both sculpture and painting media.
Her large scale sculptures are made out of various materials such as plywood, filler and paint, processed over a long period of time. At first the surface of the sculptures appears monochromatic, but upon closer inspection the underlying colours and structures are revealed. The paint leaves a tactile and even expressive impression. The figuration of the sculptures consists of long edgy lines which mimes architectural elements and spatial surfaces. The ground shape of each of the five sculptures is in a way a repetition, with individual variations of height, shape, texture and colour. The sculptures relate to each other as a group as well as the people who stand next to them because of their size.
The drawings repeat the same U-shaped figure with either small or big variations. Sometimes the figure is blown up in size and appears as a heavy black shape. Other times the figure is serially repeated as small, lightly drawn lines. The drawings are playing with simple figuration, broken structures and visual displacement.
In both the drawings as well as the sculptures I am searching for an aesthetic expression that plays with "conscious mistakes", broken patterns, uncovered layers and simplicity.
ROOM 2
Olympe Tits
Gestes Vivants
12 Feb. - 14 Mar.



Olympe Tits (Marseille, 1992) is a self-taught photographer, dancer and choreographer residing in Brussels. Olympe started her training as a professional dancer at the Royal Ballet School of Antwerp at the age of 8 and graduated there at the age of 18. After those studies she developed as a contemporary dancer at the Royal Conservatory of Contemporary Dance in Antwerp. She danced in various projects and created her own choreographies that took place on several stages. Because she has always been very interested in creating art with different media, such as dance, music, writing and video, she decided to teach herself photography at the age of 19. The influence of her career as a dancer is reflected in her conceptual work.

In Olympe Tits photography, opposites complement each other. Contrasting colors demarcate planes in space and thus draw figures. The soft texture of a skirt settled on the stone floor. Various elements enter into a dialogue caused by contrast. Just like opposites, a ceaseless game of attracting and repelling play with each other.

The characters in Olympe's photography are young dancers, always women. They look like wanting to go somewhere, but not getting there, they reach for the unattainable. There's a before and after in every photo. The movement from then to later is still in the now.

Contact & Visit
Open Wednesday - Sunday 11am - 7pm